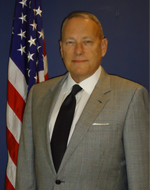 E. Gray Payne, Major General, USMC (Ret) was appointed as Senior Vice President of the Marine Corps Programs Division with The Columbia Group in 2010 following a distinguished career with the United States Marine Corps. His responsibilities include managing customer service and growth initiatives for the company's Marine Corps Programs Division, as well as overseeing several corporate staff functions.
Originally joining the Marine Corps Reserves in 1970, MajGen Payne has over 40 years of military operational and strategic expertise alongside significant experience in the private sector. In his last assignment, he served as Assistant Deputy Commandant for Installations and Logistics (Facilities), Headquarters, United States Marine Corps. During his time with the Marine Corps he also served as Commanding General of CENTCOM Deployment and Distribution, as well as the 4th Marine Logistics Group, the Marine Corps Logistics Command, and the Marine Corps Mobilization Command.
In the business world, Mr. Payne has been active in several small to mid-size businesses as a CFO, COO, and CEO providing successful corporate leadership across different industries. His solid track record of analysis, innovation, leadership, and change management, allowed him to significantly improve the operations of many companies including North American Packaging, Inc. where he served as President and CEO for four years until he committed to the Marine Corps full-time in 2001.
Mr. Payne is the past Chairman of the Marine Corps Reserve Policy Board and currently serves on the Marine Corps Association's Board of Governors. His personal awards include: the Distinguished Service Medal, the Defense Superior Service Medal, Legion of Merit Medal, Meritorious Service Medal with two gold stars, and the Navy and Marine Corps Commendation Medal with gold star.
Mr. Payne received a Master's of Science in Strategic Studies from the U.S. Army War College, and Bachelor's of Science in Economics from North Carolina State University.
Education, Awards and Recognition
MS in Strategic Studies, U.S. Army War College
BS in Economics, North Carolina State University
Distinguished Service Medal
Defense Superior Service Medal
Legion of Merit Medal
Meritorious Service Medal with 2 Gold Stars
Navy and Marine Corps Commendation Medal with Gold Star