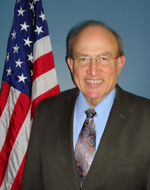 James Ferguson has more than 25 years of experience managing and leading research, development, and engineering programs as well as business development activities for corporations with 300 to more than 12,000 employees. In 2011, he joined The Columbia Group and leads current business development activities.
Mr. Ferguson was formerly the Vice President for Army Programs, Corporate Business Development at CACI International Inc., where he led a team of five corporate business developers focused on U.S. Army and Department of Defense (DOD) Combatant Command business opportunities in research and development, systems integration, and O&M services for communications and intelligence systems, business software applications, logistics support, and enterprise IT systems.  He aided CACI in winning numerous large U.S. Army contracts totaling more than $2 billion in value, helping increase annual revenue by $250 to $300 million.  Previously, he was Vice President, Business Development for Advancia Corporation (formerly LB&M Associates Inc.) where he oversaw a successful diversification of business activities for this small disadvantaged business from primarily DOD and Department of Transportation (FAA) to other Government agencies and commercial enterprises.
Mr. Ferguson also has over 20 years of experience in increasing positions of leadership and responsibility as an officer in the U.S. Army, where he directed a staff of 20 military and civilian specialists in the development of training strategies and substantive training aids and devices, simulations, simulators, and training documents.
Education, Awards, and Recognition
Master of Mechanical Engineering, Georgia Institute of Technology
Bachelor of Science, U.S. Military Academy
U.S. Command and General Staff College in Fort Leavenworth, Kansas